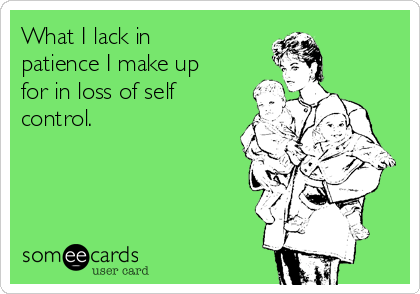 I was reading Anne Ainsobriety's blog (which is amazing - BTW) the other day and was intrigued by her post on having a word of intention for the year. I like the idea of having a word to focus on internally rather that an external, specific goal, as a new year's resolution. My word came to me right away - no analysing this time!
Patience
I am going to adopt this word for my focus to start off 2017. I really need to work on this as I have no patience - ever.
I do not have patience for:
sobriety to get easier
cravings to pass
boredom
decisions to be made
tasks to be completed
problems to be fixed
This shows up in all areas of my life:
Professionally - I have to get everything done right now, and usually I need to do it all myself so it is done the way I want it done. I have been told that I can sometimes dominate meetings in an attempt to get things done without giving people thinking time. It drives me crazy to sit in a meeting discussing things without a decision ever being made.
Emotionally - All problems/conflict need to be fixed right now - by trying to fix everything right away, I usually make it all worse. If someone is mad and walks away - I usually follow them and badger them until they talk it out with me (I know - not proud of this one). Things need to be addressed immediately. If I can't fix it right away, it drives me crazy and I can't stop thinking/obsessing about it. Also, I am either all in or all out..there is no gray area. I am either 100% loyal and forgiving or I don;t give two shits about you. I default to liking and trusting everyone - even to the point of bring a little naive - but once you are mean to me - forget it! I HATE mean people!
Mentally - All issues in my head need to be addressed, obsessed over, analyses and fixed right now. For example, I can spend hours on this blog (when I should be doing other things like right now lol) obsessing on my issues with alcohol. Because I obsess over everything, I sometimes use this as an excuse to stop obsessing about alcohol and just "Don't worry about it. You can drink normally. You are just creating problems for yourself by possessing over them." Another example, if we are going to buy a new vacuum, I have to research all possible options (usually for hours or days obsessively) until I can make a decision. Sometimes I get so obsessed that I can't even make a decision after hours of research. I am so afraid I will make the wrong choice. Vacation planning is a killer. Especially if, after all that research, things don't go exactly as I planned. You'd think the world was ending if the hotel I finally decided on doesn't look exactly as I had seen it on the internet! One time the outdoor pool was closed for renovations and I became that crazy person yelling at the front desk people! Of course I had been drinking and embarrassed my whole family. I couldn't even see how I was acting, I was just so mad that it didn't mention this anywhere on the website. OMG! I am getting worked up even typing this! It is just so time consuming and ridiculous!
Physically - I need to see immediate results in my fitness and/ or diet changes. I used to be fit and healthy. I have tried so many times to start a new workout program or eating plan. Of course I spent days researching them when I really should just stop researching and actually doing something. I am so "all or nothing". I am either all in or all out - which 99% of this time is all out bc I can't be perfect.
I think because of this I give up so easily on everything, if the results are not immediate, or I can't make a decision right away, I give up or become indecisive and can't make a decision.
I have never been able to calm all the voices in my head. I feel like my thoughts are always going a mile a minute. Maybe alcohol slows that down for me, while also making me kinda hyper in a party sort of way bc I also HATE being bored. I don't even know if that makes any sense.
I have also become a lethargic couch potato for the same reason - it shuts up the voices in my head and makes me feel like I am not bored. But just like with alcohol, I think it is really just a distraction from real life and really living to my potential.
Maybe this is why one of my all time pet peeves is when people tell me to "Calm down." That just makes my blood boil...maybe because it hits a nerve and is actually true!
Wow!!! I really think I could use some patience!